Hudson Valley Second Harvest
Occasionally, retailers and food service establishments are reluctant to donate food to soup kitchens and emergency meal programs due to liability concerns. While we can understand the initial hesitation in this litigious society, the concern is unnecessary. In 1996 the Bill Emerson Good Samaritan Act was passed to encourage donation of food and grocery products to non-profit organizations for distribution to needy individuals. This law:
Protects you from liability when you donate to a non-profit organization
Protects you from civil and criminal liability should the product donated in good faith later cause harm to the needy recipient
Standardizes donor liability exposure. You or your legal counsel no longer have to investigate liability laws in 50 states
Sets a floor of "gross negligence" or intentional misconduct for persons who donate grocery products. According to the new law, gross negligence is defined as "voluntary and conscious conduct by a person with knowledge (at the time of conduct) that the conducts is likely to be harmful to the health or well-being of another person."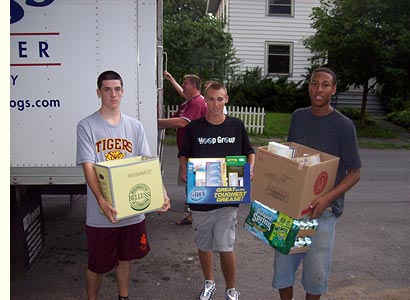 Hudson Valley Second Harvest food rescue connects with food service operations (grocers, restaurants, banquet halls, food producers, schools) to utilize wholesome food that may otherwise be wasted. This program is crucial to the success of The Queens Galley Soup Kitchen providing the majority of the food we're able to use.
Call The Queens Galley to arrange pick-up details or to establish procedures for call-in donations. Once it has been determined that food at your facility will be donated to our recovery program, the following steps should be taken:
Transfer food to either a bag or pan. If you are able to provide your own disposable packaging for donations, you help the food-rescue program use its resources more effectively. However, we don't want packaging to get in the way of your good intentions.
Label food with product name, date and your location's name


Beef Stew - 11/2/05 - Mom's Diner

Food should then be either refrigerated or frozen depending on the date of your scheduled pick up. Chilled perishable food is to be below 40 degrees Fahrenheit except during preparation or while being held for service, which may not exceed two hours. It is preferred that foods are frozen to maximize freshness.
Please see our Food Donations Guidelines for additional information.
After your donation is picked up you will receive a receipt indicating the type of product and its weight. This information should be passed on to your accountant, as there may be tax deductions/credits available to you based on your company's legal structure and geography.