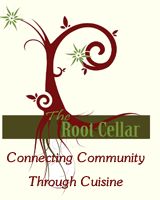 Using food as a platform for a job readiness, The Queens Galley Root Cellar program prepares low income individuals and career changers over the age of 50 for work in the food service industry, or prerequisite skills training for entry into other professional degree programs in the culinary arts.

The Root Cellar Catering: Guests enjoy cutting edge techniques used to create cuisine where flavor, texture, aroma, and visual presentation come together in delectable edible art. The catering revenue assists in funding the Soup Kitchen, Food Pantry and Cooking Matters. The Queens Galley looks forward to expanding the job readiness program into a training restaurant open to the general public.

Our dedication to local sourcing and seasonal produce combined with classical technique are clearly evident in every dish.

Email catering inquiries to RootCellar@TheQueensGalley.org.